Christine Logan is the wordsmith on Cave Girls featured in the new comic based on Creepy KOFY Movietime, the popular late night horror cable TV show seen in the USA. An established magazine journalist this is her first venture into the world of comic book writing but she plans on doing more…

Through writer (Dead Ahead), editor (Gumby Comics) and journalist (Speech Balloons) Paul H. Birch, Wicked Comics caught up with Christine Logan to learn more about her involvement in comics and more specifically in Cave Girls the strip featured in #1 of the Creepy KOFY Movetime line up.

"The story was there before I became involved, and all drawn up by Ken Hooper by the time I got to see it," Christine Logan revealed of her working on a strip said to be inspired by the Creepy KOFY Movietime show's female dancers known as The Cave Girls. "But I added in assorted background notes about where they could take the story because it seemed Ken wanted to continue it, and offered some – what do you comic geeks, call it? Back story? So the powers-that-be decided to list me as being involved in the story too," she said of how she became involved in the comic scene in general, after speaking with another contributor, Paul H Birch.


"Christine did some work for me years ago as an editorial assistant before going off to become a freelance writer," Paul said, adding, "Since then I've been able to rely on her to write articles for me for on other newsstand magazines where I was employed as an editor. An awful lot of the source material stuff for that kind of thing can be quite dreary and mundane but she is able to process it and deliver content in a pretty informative way. Anyone who makes me look good as an editor, I tend to keep note of, and as my own company, Target Media, has developed we've done a lot of ghost writing and PR work where we have continued to use her services."

"My background's not in comics and I would sigh or yawn most times when I was around Mr Birch or one his friends when they would start talking about them." Mr Birch? "You think he's easy going? Oh, he likes to play the heavy sometimes, and I'm not just talking about the weight he's carrying these days! Then there are his very old mates who call him Whitesnake for some reason, and a few of those who call him Pretty-Boy, and they've either been taking the Mickey out of him for decades or he's aged badly too. Seriously though, there are some people who call him Sir with genuine respect. I'm not one of those, but I know he means well.

"You have to understand, I'm way younger than him, and the days when comics for girls sold hundreds of thousands of copies every week in Britain are long gone, so not really part of my own upbringing. I had Twinkle when I was very little, then I saw a few copies of Bunty and so on but stories about boarding schools and ponies wasn't the world I came from, Deadline was cool for a while as I got older, but only for dipping into for the odd strip or article. There's either way too much macho bull or overly preachy-equality and diversity propaganda in a lot of the other stuff that's passed under my gaze, and I've tried to ignore it for ages."

Curiosity may not have killed the cat, but with more and more women openly saying they enjoyed comics it was beginning to intrigue Christine, if only as a venture worthy of financial reward. "Well, until Paul told me that despite all the publicity, they weren't making the kind of money they used to, at least not in the traditional page rate ways," said Christine.

"The great wise one said I would have to dip my feet in the waters, do a few things for free or for low deals, to begin with. Well, that's fine, I thought: it would be a learning experience, and as long as no sharks were in the waters I could survive doing my other work. The trouble was, after years of just cracking on with writing assignments I found I didn't know how to begin initiating material in this new medium.

"Paul suggested I take some of the things he had come up with but never got round to finishing. Now, I'm used to making a silk purse out of a sow's ear where he gives you a series of press releases, some tear sheets from elsewhere and asks for 1,000 words overnight but there's usually a fixed date by which time I'll get paid as the necessary added incentive. But I sifted through some things of his, laughed at the absurdity of more than a few, then decided there were a couple I thought I could do something with, both ironically superhero based even though that's the genre I've thought silliest of all in comics."
Neither of these was the Cave Girls storyline though. "Paul's been assisting people writing comics, and ghosting more things than the public realise the last couple of years, but he's worn out and possibly frustrated by it, and he felt I was developing as a fiction writer of comics whereby I might want to take over some of those things. For the most part I didn't. Now that was either because they were dumb-going-nowhere epics that wouldn't generate me much income or help any career intentions I might want to develop, or that the person whose mixed-up ideas I could be turning into a serviceable script didn't want a girl doing it, even anonymously! I was also fussy about the artists I might work with.

"Then he put my name forward for the Cave Girls thing without telling me and Ken Hooper came back saying he was up for me adding dialogue to the story. First thing I see when I get sent the art? A bunch of naked women, pretty much in bondage. Were they sending me up? I certainly thought so for a while. I suppose the fact that the breasts weren't over-inflated balloons helped, and I knew Ken could draw stuff in general well, with a nice illustrative style as I'd seen some other bits and pieces of his, including work written by Elaine Lee (Starstruck, Vamps etc) meant he was amenable to working with women.

"I only had about half a day to write the words though – And I know they changed some of them to give it more of an American comics writing style – but I think I was able to give it a different edge, and a possible direction, and Ken liked that, because he plans on the story continuing. I've said I'm interested in carrying on in the same way, though preferably with a more workable deadline.

"I'm not even sure if they're even going to use Cave Girls as the strip's title, but it could turn into an interesting story, taking in fantasy or science fiction along the way. And as long as the women aren't portrayed in some pervy-sexist manner, I'm happy to write the bulk of the words and learn along the way, plus it's good exposure working with someone with Ken's talents."

Ken Hooper has worked for a number of comic book companies in his time, from drawing individual superhero books like Aquaman and Mr Miracle to the group-team Primal Force over at DC, licensed books such as Star Trek and Indiana Jones, more recently the retro-titles Airboy and Domino Lady over at Moonstone, and currently the rebooted Mighty Crusaders for Archie Comics, so he's certainly an artist worth being associated with as a collaborator, as Christine Logan is now.

With regards to the superhero stories she mentioned, one is The British Legion – "They're a different kind of group, and a small one despite the name. The project is still very much in development, but may feature world politics and question Britain's place in it, we'll see. The main thing is securing an artist, because, unfortunately, Joe Ahern who did the finished character sketches based on Paul's roughs, and the initial pages, died a few years back. I'd very much like to find an artist similar to Joe's, because again he had that illustrative more realistic style that appeals to me more than the big and bombastic silly comic book stuff. Sorry if I come down on comics you all like, but I'm being open here. If you don't like the things I do in the medium, you don't have to buy them either. Paul has suggested it could be serialised in Hardware, but then we might find someone who wants to publish it in its own right. We'll argue that one out another day."

Keeping things a close-knit community, the other project is a revamping of Major Impact, who featured in the Wildcard Ink charity comic Feed America's Children – "Paul had approached Mel Smith who's also the publisher of the Creepy Kofy Movietime comic about continuing the characters as an adventure style comic strip and having it appear as an online serial some years back, and had contracts signed agreeing to it. He had an outline but no artist. Then for a project they may be collaborating on writer GM Jordan recommended Roland Bird to Paul, and surprisingly he lives quite locally. Well, as things turned out he interested him in working on Major Impact with me, as well as collaborating with him himself by writing Wolf's Bane that Roland drew for Creepy Kofy Movietime.

"We've revamped the characters in Major Impact, specifically the supporting cast of heroes in The W.E.B. (World Espionage Bureau). While Roland's art is very much in the superhero mould, it is still routed in realism, and he writes notes alongside his sketches so I know he's thinking about what and why he's drawing things rather than just what looks cool.

"Roland's got a series going on over at Markosia, so Major Impact fits in between his other work, like it does for me. Birch is acting as editor on that, and he pulled in Owen Watts as letterer, and there's a possible colourist. It will initially appear at the Birmingham Mail newspaper's online comics section, Speech Balloons, but will also be available via Target Media for syndication online and in print elsewhere. Acme Ink as owner of the characters have first option on a collected edition, as a printed version is the intended end result, plus secured a contract that should anything actually take off we all get a cut of any merchandising.

"I'm very pleased with how we're reworking the females in The W.E.B. Both visually and as characters – you may think we won't be able to say much in a three panel comic strip, but I guarantee that what we will say will be worth reading. The plan is to tell one epic story, with subplots taking us through time via the genesis of old heroes and space via aliens invading, plus some really gross bad guys thrown in for good measure – Because even I know it's a good villain that makes a great comic book story!"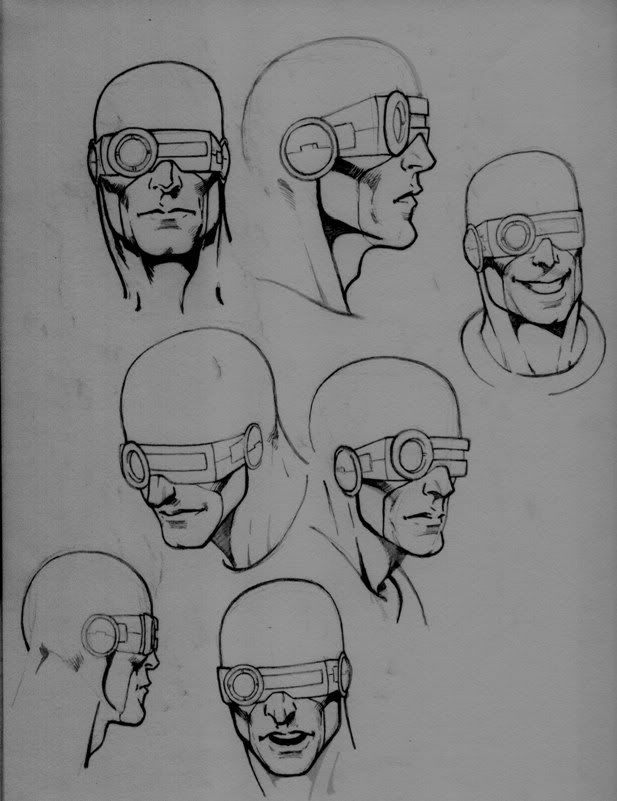 As far as her own self-initiated projects are concerned, Christine says: "I think first and foremost I am going to see how The British Legion, Major Impact and the Cave Girls develop. If I find there's a readership who respond positively to what I'm doing with those it will spur me on to develop my own larger projects – Because I'll be honest with you, while I'm enjoying doing this at the moment there is also the financial investment in that this may take me away from writing earnings elsewhere.

"That said, any publishers with serious comic writing assignments with people who know how to draw, can contact me courtesy of Target Media – Well, you don't think my partner wants to hear Transatlantic panting down the phone by any immature editors do you? That aside, some stand alone strips or short strips in any other anthologies could be interesting, as I develop my comic writing chops."

So there you have it, Christine Logan, a new name to the comics world; let's hope she continues to hang around. We will be able to see her first collaboration with Ken Hooper when The Cave Girls debut its serialisation in Creepy Kofy Movietime #1.

Now in its seventh season Creepy KOFY Movietime is hosted by a couple of cave-dwelling fiends going by the monikers of No Name and Balrok whose bawdy party-night humour intersperses screenings of B-movie horror and sci-fi flicks alongside interviews and live performances by bands, dancers, magicians and ghost hunters!

The Creepy KOFY Movietime comic is being published by Acme Ink and prior to going on sale at comic shops through Diamond this Halloween will be available direct from the publisher and at summer conventions, with scheduled signings also planned by the show's hosts No Name and Balrok.

Creepy KOFY Movietime is one anthology comic you couldn't miss sitting there in a comic book store – And why should you unless it's sold out? Don't delay reserve your copy today!

For more information on Creepy KOFY Movietime visit: www.kofytv.com/creepy-movie