Top Shelf Productions have an absolutely stellar lineup of featured authors and debut books:
• Congressman John Lewis, Andrew Aydin, & Nate Powell (Eisner nominees, debutingMarch: Book Three, also available in hardcover as well as a signed & numbered limited edition hardcover — and leading a children's march on Saturday morning!)
• Jennifer Hayden (Special guest of the show and Eisner nominee for The Story of My Tits)
• Troy Little (Eisner nominee for Hunter S. Thompson's Fear and Loathing in Las Vegas)
• Eddie Campbell (Debuting Bacchus (Omnibus Edition): Volume Two, also available in a signed & numbered limited edition hardcover, as well as Eddie Campbell's Omnibox)
• Benjamin Frisch (The Fun Family)
• Steve Nedvidek, Ed Crowell, Jack Lowe, Moses Nester, & S.J Miller (The Jekyll Island Chronicles)
• Mark Russell & Shannon Wheeler (God Is Disappointed in You, Apocrypha Now, and theGod/Apocrypha Slipcase Set)
• Koren Shadmi (Love Addict: Confessions of a Serial Dater)
Plus the stunning new hardcover edition of Jeff Lemire's The Underwater Welder (also available in a signed & numbered limited edition)
In addition to official signing sessions at the IDW Signing Area (schedule here), the above authors will be holding additional signings in the Top Shelf zone on a rotating basis throughout the show. Come say hello — at booth #2743!
Read on for details on the our can't-miss programming at the show (and links to RSVP):
Top Shelf Productions: Live!
Thursday, 7/21/16, 11:00a.m. – 12:00p.m., Room: 28DE
Now an imprint of IDW Publishing, the tastemakers at Top Shelf are busier than ever bringing you their trademark blend of gorgeous art, storytelling charm, and literary sophistication. Join marketing director Leigh Walton and design director Chris Ross for a tour of Top Shelf's latest and greatest. Benjamin Frisch makes a head-spinning debut with The Fun Family, theLost Mountain Mechanicals blend history with dieselpunk action-adventure in The Jekyll Island Chronicles, Koren Shadmi explores the dark side of digital dating in Love Addict, and much more! Plus: the latest on March, and great news for Alan Moore fans and Korgi lovers…
God is Disappointed in You 2: Apocrypha Now
Friday, 7/22/16, 12:00p.m. – 1:00p.m., Room: 32AB
It's the second coming! Their first book, God Is Disappointed in You, was an irreverent-yet-faithful adaptation of the Bible that got everyone talking. Now, Mark Russell (Prez, The Flintstones) & Shannon Wheeler (The New Yorker, Too Much Coffee Man) are back with a follow-up book, Apocrypha Now, about the stories that DIDN'T make it into the Bible. Some of these stories were forgotten, some suppressed, others were just too freaking weird for the Bible (and that's saying something). Join these two holy heathens for a funny and fascinating tour of what the Bible DIDN'T tell you.
MARCH with Congressman John Lewis
Saturday, 7/23/16, 10:00a.m. – 11:00a.m., Room: 23ABC
At last… the final chapter is here. Meet the man they call "a real-life superhero" and witness history in the making, as the legendary civil rights icon, US congressman, and #1 bestselling graphic novel author John Lewis returns! Together with award-winning collaboratorsAndrew Aydin and Nate Powell, Congressman Lewis has brought his incredible story to new life with the graphic novel trilogy March. Now, join all three creators to celebrate the completion of the saga in March: Book Three — a must-read account of the Mississippi Freedom Summer and the Selma-Montgomery March, and so much more — available exclusively here at Comic-Con for a limited time. Learn how March is transforming our understanding of the civil rights movement, and the powerfully urgent lessons that it brings to new generations today… and get ready to move your feet!
Spotlight on Jennifer Hayden
Saturday, 7/23/16, 3:00p.m. – 4:00p.m., Room: 9
From Underwire to the webcomics S'Crapbook and Rushes to her Eisner-nominated masterwork The Story of My Tits, Jennifer Hayden has embraced a comics narrative that goes beyond the personal to the visceral. An artist, a musician, a wife and mother, a goddess: Hayden synthesizes many roles into a single, distinctive style. Join her in a discussion of how these roles transmute into art. Moderated by Karen Green.
In this month's Previews, by popular demand: Top Shelf presents an elegant new hardcover edition of From Hell, one of the enduring masterworks of the graphic novel form.
From Hell (New Hardcover Edition)
by Alan Moore & Eddie Campbell
ISBN 978-1-60309-397-2 • Diamond: JUN16-0567
560-page hardcover graphic novel • $39.99 (US)
For mature readers (18+)
"A seminal graphic novel." — Kirkus Reviews
"Remarkable." — The New Yorker
"Fearsomely complex." — Publishers Weekly
"Positively intoxicating." — The Guardian
"Both creators are at the top of their game… a hypnotic read and perpetual re-read." — Rolling Stone
"A great work of literature." — Amazon
"My all-time favorite graphic novel … an immense, majestic work about the Jack the Ripper murders, the dark Victorian world they happened in, and the birth of the 20th century." — Warren Ellis, Entertainment Weekly
The award-winning classic by Alan Moore & Eddie Campbell returns — in hardcover — with a powerful new cover design!
Two of the greatest creators in the history of comics. Eleven unsolved murders. One sprawling conspiracy, one metropolis on the brink of the twentieth century, and one bloody-minded Ripper ushering London into the modern age of terror. From Hell, often ranked among the greatest graphic novels of all time, is now available in a handsome hardcover edition, with a brand new cover design by Eddie Campbell & Chris Ross. — a 560-page hardcover graphic novel.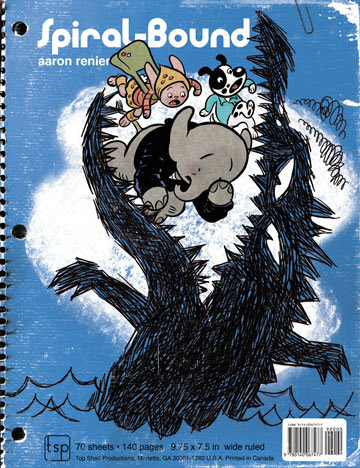 Spiral-Bound by Aaron Renier
ISBN 978-1-891830-50-1 • Diamond: JUN05-3272
184-page softcover graphic novel with rounded corners • $14.95 (US)
For all ages (10+)
Winner of the Eisner Award!
"Brilliant! Aaron Renier has created a playfully mysterious universe, complete with its own dreamlike logic. It's a delightfully inventive treasure." — Dav Pilkey
"Exactly the sort of novel I have been looking for." — Lemony Snicket
"Spiral-Bound is a lush magical landscape… It reminds us of the joy of discovery, and of finding oneself." — Craig Thompson
With an ensemble cast straight from a box of Animal Crackers, this delightful tale of ambition, morality, and self-discovery is an all-ages classic. Drawn in a decidedly beautiful fashion, reminiscent of Richard Scarry and Lewis Trondheim, Aaron Renier gives us a fully realized and compellingly adventurous narrative, at once both achingly naïve and profoundly worldly. This tightly-crafted graphic novel is the real deal, and will charm your socks off.