Wicked Comics would like to thank Michael Kuty for sending us three comics for reviews published by ENEMY TRANSMISSION.
VALHALLA CINDERMANE #1
Publisher – Enemy Transmission
Format – Colour, Issue 1 of 4
Writer – Michael Kuty
Pencils – Axel Gimenz
Inks, Colours – Daniel G.A. Goiz
When I saw the cover I approached this comic with hesitation as I was expecting a good girl art comic book with no real story. Although the cover is quite attractive it is misleading as Michael Kuty's original plot seems to be leading somewhere.
What was a bit confusing was that it seemed that we have two main characters – the brunette bombshell whose name I guess is Valhalla Cindermane and the alien Perilous. The story jumps from one character to another without any explanation to their connection. Hopefully this will be resolved in the forthcoming issues.
The Artwork by Axel Gimenz is great. There are hints of Michael Turner or Breth Booth's influence in the pencilling. What really impressed me is the colouring. Daniel G.A. Goiz uses an exquisite palette for colouring this comic.
Although this is only issue 1, I still would have wished to see more of the Diva of Thunder not only for her good looks but as we are still in the dark on her intentions.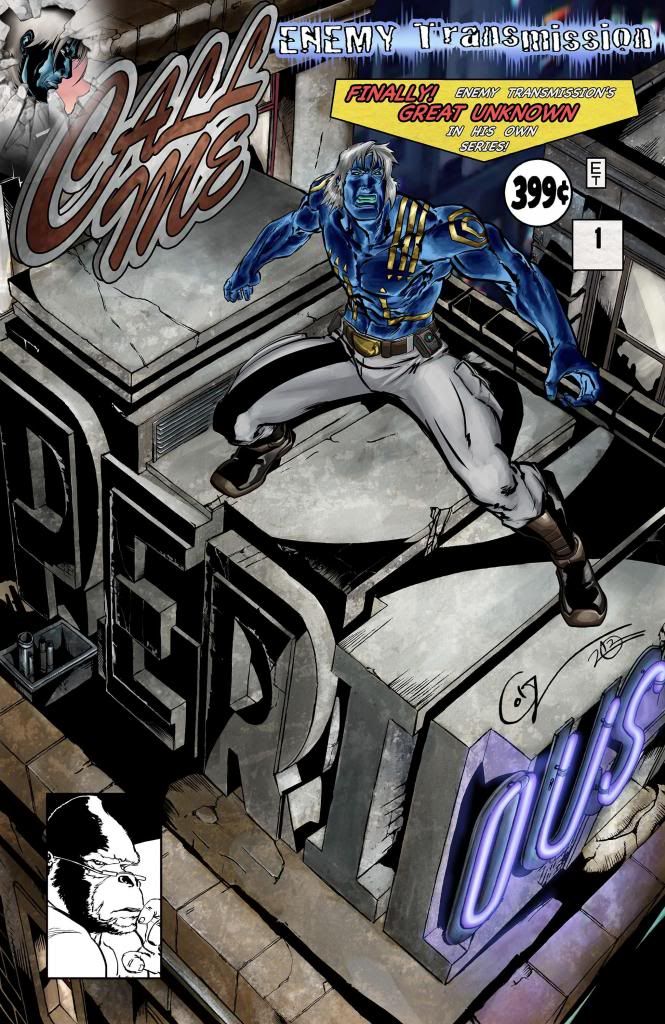 CALL ME PERILOUS #1
Publisher – Enemy Transmission
Format – Colour, Issue 1
Writer – Michael Kuty
Pencils, Inks, Colours – Daniel G.A. Goiz
This is a continuation of the story of a character that was first introduced in VALHALLA CINDERMANE #1. In fact his origin is reprinted as a back up feature.
The cover reminded me of the pulp heroes like The Spirit or Green Hornet. But this is a whole different kind of hero as the alien Perilous is a confused being in which we get glimpses of his past training and origin. Michael Kuty storytelling also gives us his dangerous present situations. There are various characters that are introduced but we still have no major indication to which of these will continue to venture in this comic. Even Perilous' character and motivations needs to be further explored.
Michael Kuty's story in this comic is better paced and not as confusing, maybe as it just focuses on just one character.
Daniel G.A. Gloiz proved himself that he is not only a good colourist but an awesome illustrator too. His artwork is clean and simple which is enhanced by the panelling. Panels are placed according to the pacing of the story. I enjoyed the crooked panels that are put to demonstrate confusion when the main character is attacked. Facial expressions are perfect as they show real emotions.
The teaser at the end looks promising for the next issue.
THE EQUATION #1
Publisher – Enemy Transmission
Format – Black and White, Issue 1 of 4
Writer – Michael Kuty
Pencils, Inks, Lettering – Kelly Ishikawa
Although colourless, this is actually my favourite from the comics reviewed. I love the idea of a group of characters that are going to meet up in one story that will solve a particular mystery. The black and white, with shades of grey artwork is quite good although I would have preferred it to be coloured. The distinctive Manga influence emerges in Kelly Ishikawa pencilling.
The portrayal of the scarred Vulcan is interesting. He seems to be a mixture of both Thor and Hercules but still maintains his own distinctive character. Pandora's character seems to be that of a Disney princess although we might see a different aspect of her character.
Since this is the first issue of this series, it still needs further reading to justify the presentation of the other mysterious characters in this issue such as the Mad Scientist, Target and the First Man.
The same as both the other two comics, Michael's writing leaves us inquiring the story but still craving for the next issue.
To get a better understanding on these comics and other upcoming publications, visit – http://www.enemytransmission.com/